Speaker: Dr. Gerardo Poli, Animal Emergency Service, Australia
Date: Nov 8-9, 2019
Venue: Al Wasl Veterinary Clinic
Organized By: Medical Plus & German Standard Group
Summary & Objective of the course
Fundamentals of Ultrasound
AFAST – Abdominal Focused Assessment with Sonography for Trauma
TFT – Thoracic Focused Assessment with Sonography for Trauma
Practicals on image acquisition and optimization
Ultrasound is a powerful and often under-utilized tool. In this workshop we start with the fundamentals of ultrasound, how to acquire an image, then we go into AFAST which is a very information scanning process that lays the foundation for full abdominal scanning. We also cover TFAST which is a very useful adjunct to thoracic radiographs for the assessment of lung disease. The theory session is then followed with a practical session to help you get accustomed to image acquisition and optimization and actually scanning.
About the Speaker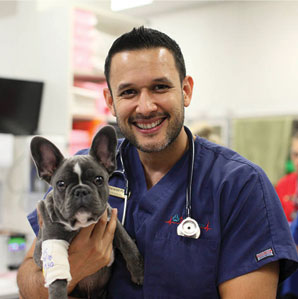 Gerardo is an Emergency Veterinary Surgeon and Company Director at Animal Emergency Service, Australia, in the field of emergency and critical care. AES has five clinics throughout Australia. Gerardo was the hospital director in charge of overseeing the design and construction of their new state-of-the-art hospital in Jindalee, Brisbane.

Gerardo completed his Bachelor of Veterinary Science at the University of Queensland, Australia in 2008. He graduated with first-class honours and valedictorian of his year. In 2010 he started working in the field of emergency and critical care with the Animal Emergency Service. In 2014 he completed his Masters of Veterinary Studies in Small Animal Practice through Murdoch University, which focuses on the more advanced aspects of small animal medicine.

He achieved Membership with the Australian and New Zealand College of Veterinary Scientists in the field of Emergency and Critical Care in 2012, and was head examiner for future Membership candidates for 3 years.
Gerardo has a strong interest in:
The stabilisation and management of critically ill patients
Small animal ultrasound and radiology
Emergency surgery
Cardiopulmonary resuscitation
He was one of the developers of the Animal Emergency Service Accelerate Emergency Program which is designed to fast track a veterinarians transition into the field of emergency and critical care.
Gallery