Description
CRYSTALINE
Improved imaging in difficult to scan patients
Major technical improvements provided by CrystaLine include the CPI Technology to increase depth of field, improving the imaging of deep structures in difficult-to scan individuals.
Adjustable imaging by the operator
The new XView+ speckle reduction technology which can be adjusted by the operator is now available with CrystaLine. It produces an optimal personalized image for every single clinician in a wide range of applications.
Increased Diagnostic Confidence
CrystaLine demonstrates extended configuration features, giving the physician the possibility to best perform in advanced procedures. It incorporates innovative solutions that now enable clinicians to confidently use ultrasound in several examinations.
Optimised Workflow
CrystaLine is aiming on reduced examination time and better workflow by means of a wide range of automatic process functions for Imaging, Doppler, Post-Processing, Measurements, Archiving and Connectivity.
eHD TECHNOLOGY
eHD is the Esaote technology to innovate ultrasound imaging and improve the systems' use.
It represents our attention to the diagnostic value, optimizing all the aspects of the chain a signal has to travel through, starting from the echo generated by the patient's body up to the arrival on the system's monitor. It maximizes the efficiency of ultrasound scanning, leaving the sonographer free to concentrate on the patient.
The quality that improves your diagnostic confidence.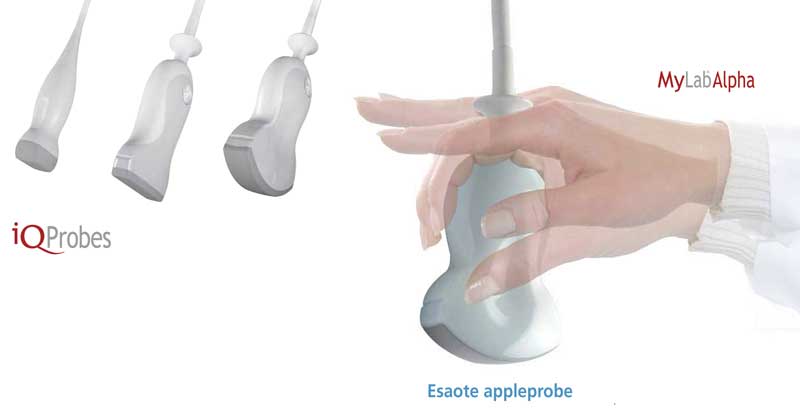 Esaote appleprobe
An innovative approach in ergonomics
The appleprobe keeps hand and wrist in their natural alignement distributing the grip throughout the whole hand as One grips an apple. You can relieve tension on the fingers and the wrist, when not scanning, simply by keeping the probe between the fingers.
The appleprobe has been designed for both grip:
– innnovative palm hold
– conventional pincer hold

eTOUCH
A standard ultrasound system becomes a personal application-specific diagnostic tool.
Customized settings and multiple functions can be organized according to clinical practice and preferences and then easily recalled by just pressing a button.
Unparalleled throughput
The intelligent software and large sized touch-screen allow unique features to be delivered with MyLabAlpha.
The Productivity-Oriented Platform is the core of the architecture: easy access, customized settings and functions, standardized clinical protocols and immediate settings.
Xstrain 4D
By combining XStrain analysis of standard apical views (2Ch, 4Ch, ALAX), XStrain 4D provides complete volumetric assessment of left ventricle. Global and regional curves as well as strain/strain-rate and volume measurements may be easily and quickly displayed.
RFQIMT
RFQIMT (Quality Intima Media Thickness) is based on the innovative Esaote's RF-data technology. Accuracy, ease of use, real-time feedback, graphs and report are part of this innovative package for earlydiagnosis clinical practice.
ElaXto
ElaXto is a non-invasive method to support the physician in assessing tissue elasticity. The differences in tissue responses are detected and visualized in real-time to help the physicians in the daily clinical routine. iQ Probes' high sensitivity increases exam reproducibility and reduces operator dependence.
Flexibility
• Easy Portability
• Innovative "ready-to-go" solutions
• Comfortable workstations
• Wide range of accessories
Wireless Ultrasound
• Extended export capability to PC (Windows®, Mac®) and mobile devices (tablets, smart-phones, etc …)
• Easy networking, standard and wireless
• DICOM and IHE compliance