Description
All necessary functions come in one compact unit.
The compact body is easy to carry, so it is useful not only in clinics or hospitals,
but also for outside observation.
A simple menu system is speedy for daily use.
Excellent ultrasound images
Advanced image enhancement technology, "H-res TM", brings the perfect solutions for visibility.
Our original image enhancement technology
H-res (Our Resolution Technology)
*Resolution visualizes delicate tissue structure in shallower region.
*Penetration visualizes good resolution in deeper organs.
*Boundary visualizes bones for observation.
*Clarity reduces the noise in blood vessel.
*Mild reduces the image enhancement effect.
*OFF has direct ultrasound image.
Stress-free operation
A full-size keyboard with an ergonomic design enables stress-free operation.
Smooth operation anywhere
The foldaway keyboard and LCD panel make for a slim-style unit that is easy to carry.
Preset function
System settings can be assigned to function keys up to ten settings and can be easily recalled.
Output
The image output signal is available in both PC format (SVGA) and TV format (NTSC/PAL)
Data Storage
USB memory
When a USB memory is inserted, records can be done directly into the USB memory. Moving images can also be stored in the USB memory in AVI format.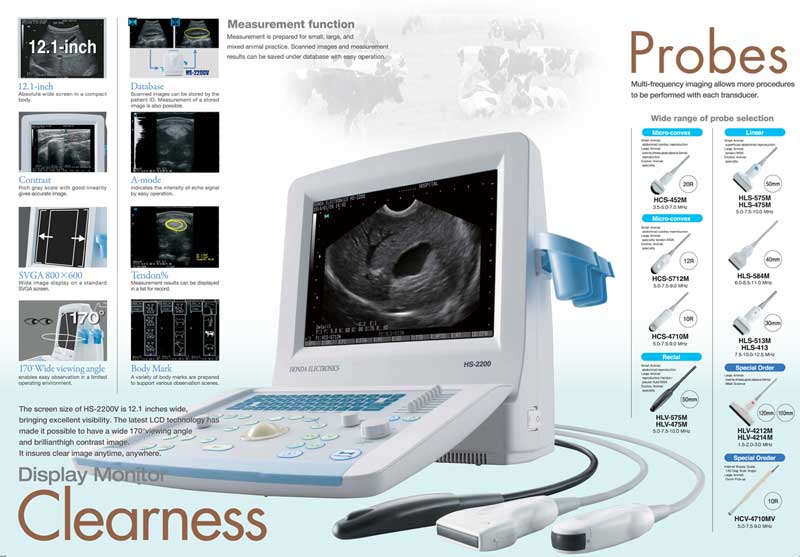 Specifications
Scanning Method
Linear/Convex Electric Scan
Display Mode
B, B/B, B/M. M, B/Z
Range
0~20mm to 0~240mm (10mm step)
Focusing Method
Full Digital Beam Forming
Continuous Dynamic Receiving Focus
4 Stage Dynamic Transmission Focus
Ultrasound Frequency
2.8~12.5MHz
Display Monitor
12.1″SVGA Color LCD Monitor
Wide Viewing Angle (horizontal:170°vertical:170°)
Image Display
Up/Down, Left/Right, Positive/Negative
Image Adjustment
B-gain, M-gain : 36~100db 1db step
Dynamic Range : 35~95db 10db step(1db adjustable)
STC : 8 segments
Acoustic Power : 20〜100%(10%step)
γcorrection : 5styles (max.10)
H-res(Image Enhancement):OFF, Detail1, Detail2, Mild, Detail3,
Resolution, Penetration, Clarity, Boundary
Sweep Speed : 5steps
Cine Memory
255 frames
Measurement Function
Distance, Circumference / Area, Volume, Hip Joint, Histogram, Gestational Weeks Calculation,
EFW, Velocity, LV Calculation
Character Display
Hospital Name (40), Patient Name (30), ID(10), Age, Sex, DOB, LMP, Date, Time, Probe Type,
Range, gain, Acoustic Power, Dynamic Range, Gamma, H-res, Gray Scale, Frequency,
Focus Information
Probe Connector
2 (selected by keyboard)
Dimension
335mm(W)x200mm(D)x380mm(H):keyboard closed
335mm(W)x500mm(D)x380mm(H):keyboard opened
Net Weight
11kg approx.
Power Source
100〜240V 50/60Hz 150VA
Data Storage
Still Image Internal(Jpeg)(100 images max. )/External USB memory(Jpeg, DICOM)
Moving Image(AVI) External USB memory
External I/O
USB Memory x 1
Video Output x 2  Channel (composite Video)
External Monitor x 1  Analog RGB
Printer Remote Port x1
Foot Switch Port x 1
Probes
Convex probe (5.0/3.5/2.8MHz 60R)HCS-536M, HCS-436M
Linear probe (11.0/8.5/6.0MHz 40mm)HLS-584M
Linear probe (10.0/7.5/5.0MHz 50mm)HLS-575M, HLS-475M
Linear probe (12.5/10.0/7.5MHz 30mm)HLS-513M, HLS-413
Micro-Convex probe (9.0/7.5/5.0MHz 12R)HCS-5712M
Micro-Convex probe (7.0/5.0/3.5MHz 20R)HCS-452M
Micro-Convex probe (Transvaginal 120°)(9.0/7.5/5.0MHz 10R)
HCS-5710MV, HCS-4710MV
MIcro-Convex probe (9.0/7.5/5.0MHz 10R) HCS-4710M
Micro-Convex probe (Endorectal 170°)
(9.0/7.5/5.0MHz 10R)HCS-5710MR
Options
Video Printer
Foot Switch (SFUS-1GR 1.8m)
Biopsy Guide
Water bag (HWB-02, HWB-03)
Cassette (HWA-03, HWA-05, HWA-06)
Cart