Description
Digital radiography system by Cuattro. Better. Affordable
When we set out to design a brand new category of digital radiography, we began by asking questions. You answered.
What we heard was surprisingly simple. "Better… for less, please. Perfect images and intuitive software. Reliable, with a
web powered, Cloud based DICOM workow. And one more thing… can you please make it for half the cost of those
other big companies?" A big challenge, to be sure. But our talented team has been known for nearly 20 years for
delivering what others deem impossible. Today, the challenge is met with CloudDR. Better and aordable.
CloudDR™ Veterinary Specialist System
Automatic Technical Settings: Species, Size, Anatomy, View
Medical Hospital Grade Ralco Collimator
Hands-Free Collimator Light System
Toshiba X-Ray Tube – 125kVp / 16° / 1.0-2.0 Focal Spots / KHU 140,000
20kW Digital Radiography Optimized High Frequency Digital Generator
Line Powered (1Ph-230VAC)
(Optional Capacitor Assisted 230VAC: "Plug-in" Install)
(Optional 32kW and 40kW Generator Ratings)
4-Way Float Top with Electric Locks
X-Ray beam rotation from +90 to -90 degrees
Exposure time from .001 seconds for "motionless" DR projections
Heavy duty steel construction
Foot activated exposure switch
4-Way Float Top Dimensions: 28″D x 59″W
System Dimensions: 59″W x 44″D x 88″H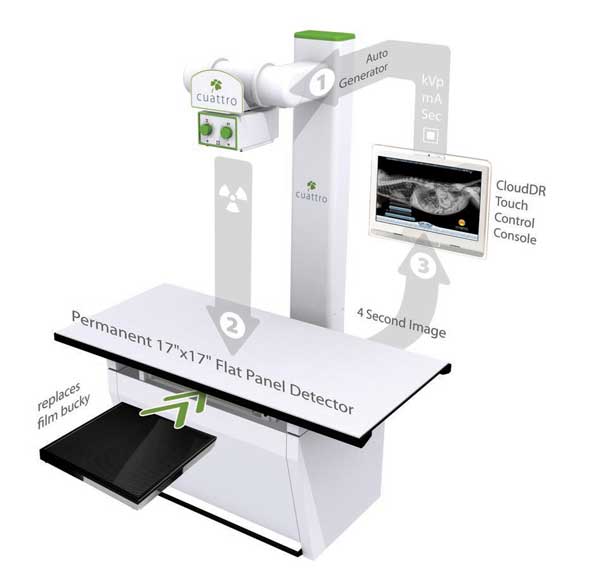 A Smarter direction in Digital Radiography. Better and Affordable.
CloudDR Veterinary Specialist System (VSS) seamlessly brings together our CloudDR Touch workstation, high frequency digital generator-mechanics system, and 14×17″ or 17×17″ solid state flat-panel-digital-detectors, into a digital imaging powerhouse. Because CloudDR is fully integrated, all technical factors (kVp, mA, Time, Focal Spot) for each patient, species, size, anatomy, and view are set automatically, without need of reference or user action. CloudDR VSS incorporates only superior components, like the high-capacity medical-grade Toshiba x-ray tube and Ralco hands-free collimator, for longevity, patient-user protection and superior DR Auto-Cropping. To keep images perfect and reports up to date, CloudDR VSS performs automated detector-generator calibrations and records ongoing data for one-touch creation of periodic exposure reports, calibration records and performance reviews. And because it is part of the CloudDR family of digital radiography and PACS products, CloudDR VSS is backed by Cuattro's full support, warranty guarantees and worldwide network of specialists.